David Walter Moore was born on 14 August 1914 in Washington County, Virginia. He married Dorothy Lynn Vencill, daughter of William A. Vencill and E. Gladys Fields, on 11 October 1944 in Washington County, Virginia. He died on 12 February 1968 in the Johnston Memorial Hospital, Abingdon, Washington County, Virginia.
On these facts, the records (marriage certificate, death certificate, Draft Record, grave marker) all agree. The records are also in agreement that his parents were Oliver Trigg Moore and Lillie Mae Harless, but were they?
The marriage record for Oliver and Lillie shows they were married on 20 July 1921 in Sullivan County, Tennessee, almost 7 years after the birth of David.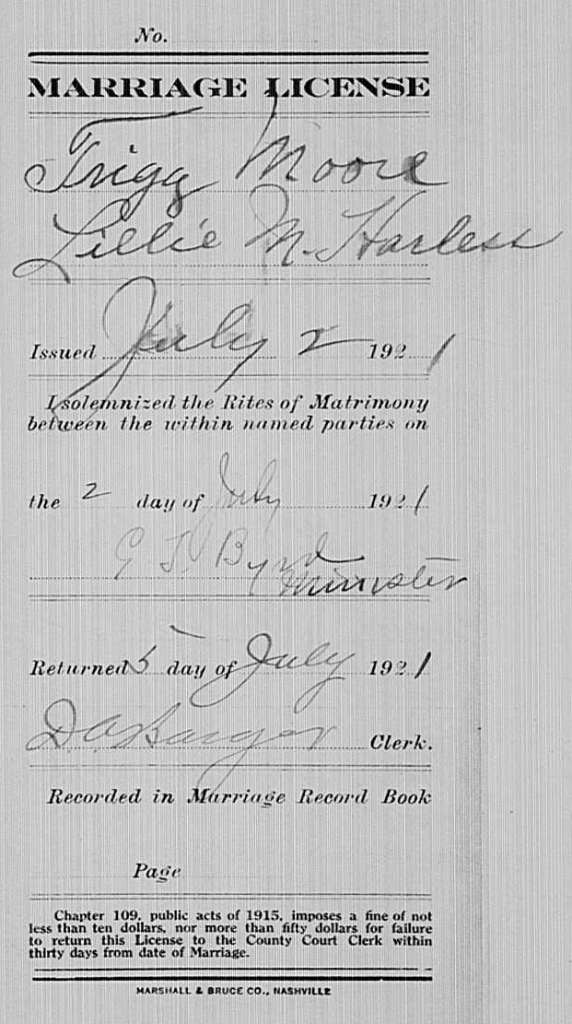 I have been unable to find a birth record for David and I have not found Lillie Mae Harless or David Walter Moore in the 1920 census.
On 5 June 1917, "Trig" Moore registered for the draft. He was a married man, listing a wife but no children as needing his support.
In 1920 Oliver Trigg Moore appears in the census with a wife named Hattie and no children. Oliver's wife, Hattie M. Price, died on 22 January 1921 of pulmonary tuberculosis, leaving a daughter Juanita Moore, born 24 May 1920 in Benhams, Washington County, Virginia. Juanita was subsequently raised by her grandparents, John Campbell Price and Amanda Keith, taking the surname Price. These records seem to eliminate Oliver Trigg Moore from being the father of David Walter Moore.
Oliver Trigg Moore died of pulmonary tuberculosis on 26 January 1922, leaving a pregnant widow, Lillie Mae Harless. Their son Charles Trigg Moore was born on 9 May 1922.
Following Oliver's death in 1922, Lillie Mae Harless married George Robert Swartz and had 2 more children, Genevieve Aileen Swartz born in 1927 and Virginia Estelle Swartz born in 1931.
David Walter Moore appears in the 1930 census as David Swartz, the son of George and Lillie Swartz. His younger brother Charles Trigg Moore is not listed in this household.

In the 1940 census, David Walter Moore and his brother Charles are listed as stepsons of George Swartz.